Companion Perennials for the Daylily Garden
Companion perennials will be available for pickup in either of our gardens starting early/mid May. These plants unfortunately are not available for Mailorder.
back to Arcadian Daylilies home page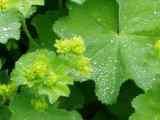 Alchemilla mollis (Lady's Mantle) – Showy mound of foliage with June/July bloom - price $8.
Iris pallida 'Aureovariegata' (Golden Variegated Sweet Iris) – A fabulous golden variegated Iris with May/June bloom - price $10.
Iris pumila (Dwarf Bearded Iris) – Rich Saturated colour. First Iris to bloom - price $10.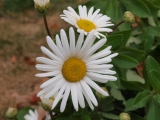 Nippon Daisy (Nipponanthemum nipponicum) – Commonly named Montauk Daisy. Formerly classified as Leucanthemum nipponicum and Chrysanthemum nipponicum.
We started propagating these in 2014 and you may have seen them in some of the garden centers we supply.
One of the most beautiful perennials in the garden, Nipponanthemum nipponicum is a woody shrub growing to about 3' with incredibly attractive semi-succulent foliage. The most distinctive quality of this plant is that it is October blooming.
Container grown plants are available for pickup from either our home garden or our Etobicoke garden.
1 gallon - $12. ea
2 gallon - $18. ea
Paeonia tenuifolia – These spectacular species Peonys always draw attention from garden visitors. Beautiful single red blooms last for a couple weeks in spring, but the most spectacular part is the finely cut 'fern leaf' foliage. A stunning plant for specimen planting or grouping together.
2022 availability will include
1 gallon - priced at $30. ea
2 gallon - priced at $50. ea
3 gallon - $65. ea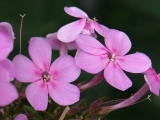 Phlox paniculata (Tall Heritage Garden Phlox) – Fragrant for birds, bees and butterflies. Great for cut flowers. $10. - one gallon, $15. - two gallon
Mayapple (Podophyllum peltatum) – Spring blooming native wildflower with traditional medicinal properties. $12.00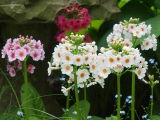 Primula japonica –Beautiful and hardy. These plants are available every year for pickup starting in early May - sorry but no mailorder of Primulas.
Sold out for 2022
White Corydalis (Pseudofumaria alba) – Continuous bloom from April til November $14.00
Stylophorum diphyllum (Celandine Poppy or Wood Poppy)
A very showy herbaceous perennial wildflower.
1 gallon - $12. ea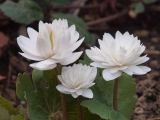 Double Bloodroot (Sanguinaria canadensis forma Multiplex)
Rarely available from retail outlets, we divide and pot up a few of ours every year, and they sell out quickly.
Sold out for 2022. Orders will be accepted starting in January 2023 for spring 23 pickup.
Available for pickup only - sorry no mailorder of Bloodroot.
Tradescantia (Spiderwort) – Violet Blue three petalled flowers $10.00