Ten of the most vigorous Daylilies we have ever grown
These ten Daylilies have grown and multiplied so well for us that we are overstocked. As much as we love every one of these we just don't have room to keep them all, and are offering this fabulous collection for $99. !!
We can ship this collection by mailorder (bare root with standard S&H charge) or as a mix of container grown and bare root for garden pickup. An incredible $160. value for $99.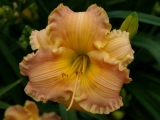 Autumn Wood – Dormant 24" tall 5.5" bloom MidLate Season Diploid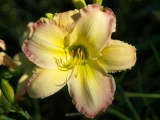 Beautiful Edgings – Semi Evergreen 36" tall 7" bloom Mid Season Reblooms Diploid Fragrant

Dominic – Semi Evergreen 30" tall 5.5" bloom Mid Season Tetraploid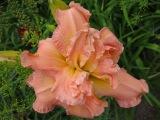 Dublin Elaine – Dormant 32" tall 5.5" bloom Mid Season Reblooms Diploid

Jan's Twister – Evergreen 28" tall 11.5" bloom EarlyMid Season Reblooms Diploid

Land of Cotton – Semi-Evergreen 30" tall 6" bloom Mid Season Reblooms Diploid

Peggy Jeffcoat – Dormant 18" tall 6.5" bloom Mid Season Diploid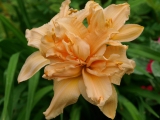 Scatterbrain – Semi Evergreen 32" tall 6" bloom Mid Season Reblooms Diploid

Spots Before My Eyes – Semi Evergreen 32" tall 5" bloom Early Season Tetraploid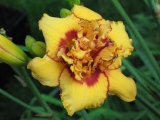 Two Part Harmony – Evergreen 34" tall 4" bloom Early season Reblooms Tetraploid


back to Arcadian Daylilies home page