72 Hendrick Avenue Toronto M6G 3S5
Serving Toronto and the GTA since 1995
Contact us sandy@ArcadianDaylilies.com
Most recently updated September 2, 2022.
Mailorder shipping is finished for 2022.
We want every plant we sell to succeed wonderfully in your garden. Late season plantings of bare root daylilies often do not have time for the roots to lock into the ground before winter. The result of late season planting can be that plants heave out of the ground over winter and perish. The same problem does not exist with container grown plants and experience has proven that our container grown Daylilies with their well developed root systems can safely be planted right up until the ground freezes in November or December.
2022 has been a fabulous year for our gardens, and we are looking forward to again sharing our Daylilies in 2023. Shipping of Daylilies will start again mid May 2023
Email problems - We reply to all email as quickly as we can - usually in less than a day. We've been told that a number of our replies are winding up in recipients junk/spam folders.
If you are expecting a message, and don't see it in your 'inbox' please check in your junk folder.
We do not do any email marketing, and have no idea why this is happening, but we're working on it. If anyone out there has any ideas please let me know - Sandy

Our Complete 2022 Daylily Cultivar List with Pricing
Native Plants for the Daylily Garden
Companion Perennials for the Daylily Garden
Follow us on Facebook at www.facebook.com/ArcadianDaylilies
About Garden Visits
We're happy to have garden visitors to pick up plants, or just to look and build a wish list. Please send an email so that we can find a mutually convenient time for a visit. 2 gardens to choose from.
Home Garden – Central Toronto
Etobicoke Garden – near 427/QEW/Gardiner
About Pickups – We are happy to have you pick up your plants. Please send an email so that we can find a mutually convenient time.
A few of our favourites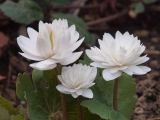 Double Bloodroot (Sanguinaria canadensis forma Multiplex)
Rarely available from retail outlets, we divide and pot up a few of ours every year, and they sell out quickly.
Sold out for 2022
Iris pumila (Dwarf Bearded Iris) – Rich Saturated colour. First Iris to bloom - price $10.
Mayapple (Podophyllum peltatum) – Spring blooming native wildflower with traditional medicinal properties. $12.00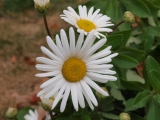 Nippon Daisy (Nipponanthemum nipponicum) – Commonly named Montauk Daisy. Formerly classified as Leucanthemum nipponicum and Chrysanthemum nipponicum.
We started propagating these in 2014 and you may have seen them in some of the garden centers we supply.
One of the most beautiful perennials in the garden, Nipponanthemum nipponicum is a woody shrub growing to about 3' with incredibly attractive semi-succulent foliage. The most distinctive quality of this plant is that it is October blooming.
Container grown plants are available for pickup from either our home garden or our Etobicoke garden.
1 gallon - $12. ea
2 gallon - $18. ea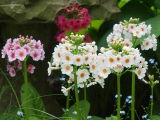 Primula japonica – Beautiful and hardy. These plants are available every year for pickup starting in early May - sorry but no mailorder of Primulas.
Sold out for 2022
Paeonia tenuifolia – These spectacular species Peonys always draw attention from garden visitors. Beautiful single red blooms last for a couple weeks in spring, but the most spectacular part is the finely cut 'fern leaf' foliage. A stunning plant for specimen planting or grouping together.
1 gallon - priced at $30. ea
2 gallon - priced at $50. ea
3 gallon - $65. ea

Contact us sandy@ArcadianDaylilies.com
Phone 416.657.1444