72 Hendrick Avenue Toronto M6G 3S5 416.657.1444
Contact us sandy@ArcadianDaylilies.com
Most recently updated June 18, 2017.
We have many hundreds of container grown daylilies that can be planted now for July and August bloom this year. Our containers have well established root systems that will lock into the warm soil in no time at all. Even containers in full bloom can be planted with a little extra care not to break the bloom scape, and they will easily establish themselves.
Please email to verify availability or if you have questions.
Follow us on Facebook at www.facebook.com/ArcadianDaylilies


Our Complete 2017 Cultivar List with Pricing


Our Connoisseur Collection
Short list of favorites from the larger collection of the most exceptional cultivars we have ever discovered


Garden Visitors
We're happy to have garden visitors to pick up plants, or just to look and build a wish list. Please send an email so that we can find a mutually convenient time for a visit.
Home Garden – Central Toronto
Etobicoke Garden – near 427/QEW/Gardiner
Hamilton Garden – west mountain just off the Link


About Container Grown Plants


Forms of Payment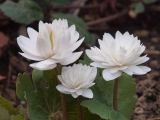 Double Bloodroot (Sanguinaria canadensis forma Multiplex) – Rarely available for purchase we are offering a limited number of potted divisions for sale in 2017. Prices will vary from $10. to $20. depending on rhizome size. Available for pickup only - sorry no mailorder of Bloodroot. Sold out for 2017, but watch for spring 2018 availability.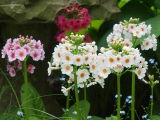 Primula japonica – Beautiful and hardy, Primula japonica in 1 gallon containers with price of $12. These plants will be available for pickup only, starting in early May - sorry but no mailorder of Primulas.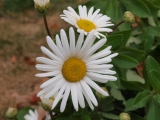 Nippon Daisy (Nipponanthemum nipponicum) – We started propagating these in 2014 and you may have seen them in some of the garden centers we supply.
One of the most beautiful perennials in the garden Nipponanthemum nipponicum is a woody shrub growing to about 3' with incredibly attractive semi-succulent foliage. The most distinctive quality of this plant is that it is October blooming.
Container grown plants are available for pickup from any of our 3 gardens. For 2017 we have various sizes available from $5.00 to $20.00.
Wholesale Daylilies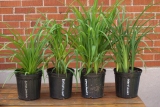 Garden Centers / Landscapers / Garden Clubs are welcome to enquire about Wholesale supply of one or two gallon container grown plants - minimum quantities apply.
Contact us sandy@ArcadianDaylilies.com
Phone 416.657.1444