Native Plants for the Daylily Garden
All of our Native plants tend to be early emerging from the ground in spring, allowing us to make them available for pickup in either of our gardens starting mid April. These plants unfortunately are not available for Mailorder.
back to Arcadian Daylilies home page

Mayapple (Podophyllum peltatum) – Spring blooming native wildflower with traditional medicinal properties. $12.00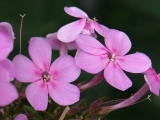 Phlox paniculata (Tall Heritage Garden Phlox) – Fragrant for birds, bees and butterflies. Great for cut flowers. 1 gallon - $10. ea, two gallon - $15. ea

Stylophorum diphyllum (Celandine Poppy or Wood Poppy)
A very showy herbaceous perennial wildflower.
1 gallon - $12. ea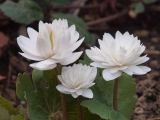 Double Bloodroot (Sanguinaria canadensis forma Multiplex)
Rarely available from retail outlets, we divide and pot up a few of ours every year, and they sell out quickly.
Sold out for 2022. Orders will be accepted starting in January 2023 for spring 23 pickup.
Available for pickup only - sorry no mailorder of Bloodroot.

Tradescantia (Spiderwort) – Violet Blue three petalled flowers $10.00